Fully automated warehouse management
How can internal logistics at a complex production site be optimised in terms of resource efficiency? Blechwarenfabrik Limburg GmbH raised this question during the planning and construction of its new production site in Limburg. In order to ensure a smooth process here, AI now controls the internal transport of goods and the storage system.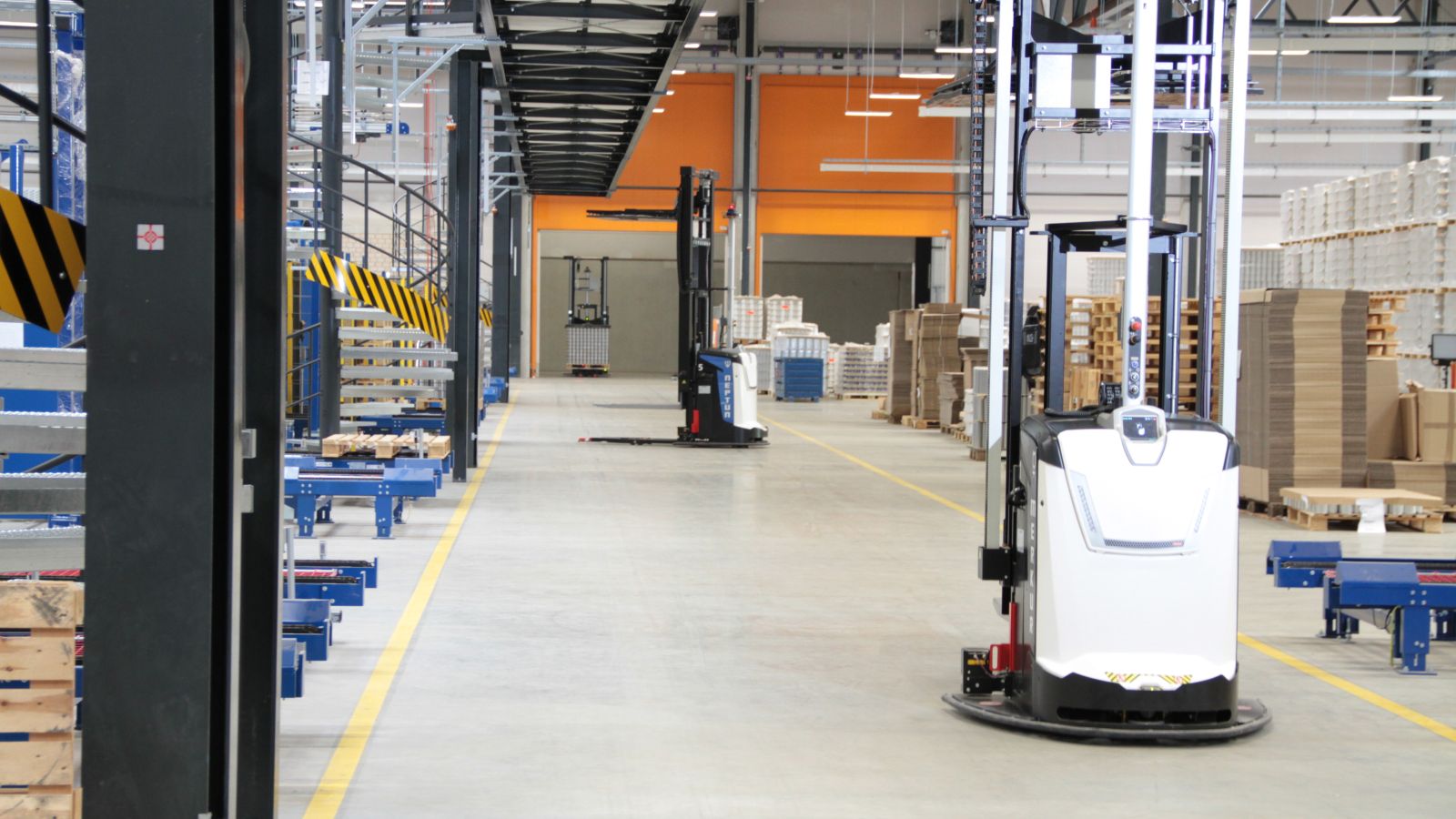 Fully automated warehouse management
Whereas previously, manually controlled forklifts moved the materials and goods between warehouses and production lines, they are now transported fully automatically through the production hall by driverless transport vehicles. Without human operation, these vehicles drive through the building and supply the production with the required materials.
A transport vehicle is also provided at the appropriate time for the removal, which is loaded with the finished goods by a palletising robot at the end of the production line. The transport vehicle then drives either to the goods issue area or to the high-bay warehouse, which is also fully automated, where a driverless stacker crane sorts the finished goods into the warehouse. The goods are not assigned to a predefined location, but appear to be distributed randomly. However, the AI-supported sorting focuses on the available space and the minimisation of travel distances. The storage locations of the finished goods are stored in a database.
AI-supported warehouse management system
This fully automated control of internal logistics is made possible by the successful implementation of a fully comprehensive warehouse management system (WMS). The AI-supported system knows at all times where the raw materials, the finished goods and the transport vehicles are and where they are needed. This way, the material flow can be controlled in the most time- and energy-efficient way possible.
Optimised processes – 100 t of tinplate saved per year
By changing over to fully automated transport and storage, it was possible to increase delivery times and reduce waste. The reduction of transport damage, in combination with all other optimised processes at the new location, led to a saving of about 100 t of tinplate per year. In addition, automation reduces the risk of accidents due to human error to a minimum.
The Blechwarenfabrik Limburg GmbH
As one of the oldest steel packaging manufacturers in Germany, the company produces packaging for chemical-technical products such as paints, varnishes and glazes at four international locations with a workforce of around 400. In Germany alone, more than 24,000 tonnes of tinplate are processed into over 100 container variations per year. In order to ensure a smooth process, an AI now controls the internal transport of goods and the storage system.
Technology
AI capability: act, understand
AI model: robotics and optimisation problem
Value creation
Phase: production & intralogistics
Aim of AI: optimisation of internal logistics
Resource efficiency
Material savings: approx. 100 t tinplate per year
Savings of almost half a million euros in material and energy costs per year
Reduction of transport damage
Company
Industry: sheet metal processing